SPINE 2019 celebrates Lancaster University's globally significant research through commissioning two art/science collaborations:
"SPINE highlights the critical role that artists and scientists play in our understanding of the world, exploring ways in which academic disciplines establish a common language to share stories and pass on knowledge." SPINE website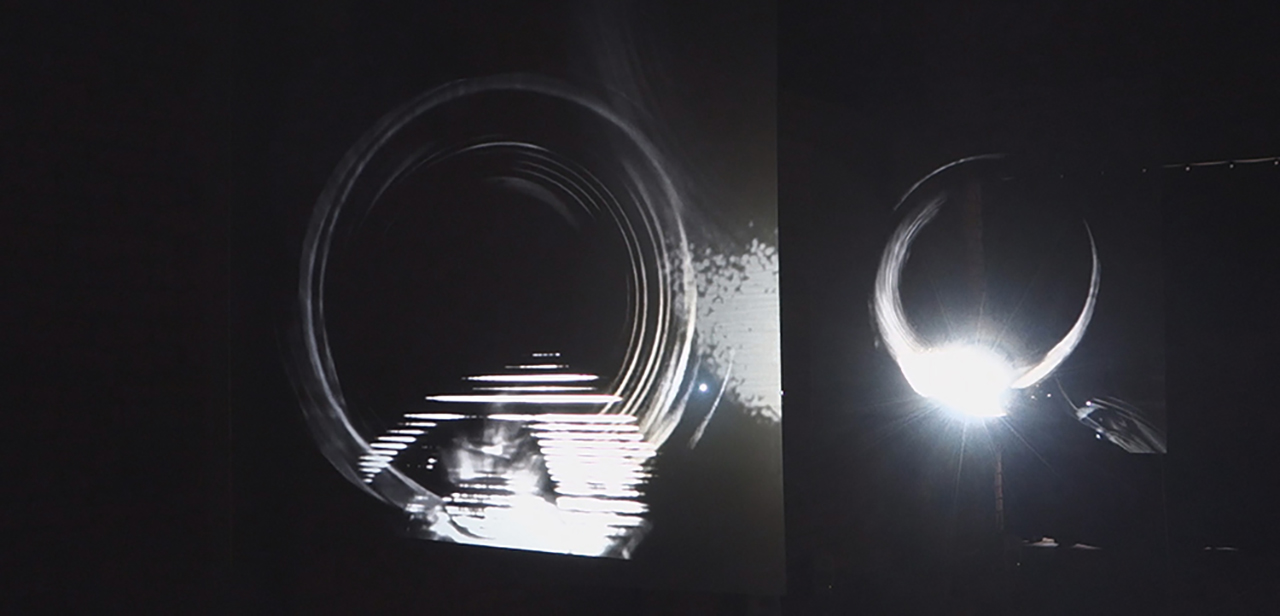 Space Science Collaborator: Dr Sarah Badman, STFC Ernest Rutherford Research Fellow, Lancaster Physics Dept.
Advisors: Professor Isobel Hook (Observational Astrophysics), Professor Jim Wild (Space and Planetary Physics),
Dr Carla Banks (Research Communications), Joe Bourne (Global Engagement).
Curatorial team: Ewa Ratcliffe (Global Experiences) and Richard Smith (Lancaster Arts)
Sponsored by: Global Experiences, Lancaster University & supported by Lancaster Arts.
Remotely sensed auroral data from Jupiter (lower left) has been processed through sonification software, Sonic Photo, allowing digital images to be converted into sound. This sonic data has then been re-analysed back into a visualisation (lower right), using Overtone Analyzer software, showing some partial glitching through slowing down the sound. The sonified and re-visualised auroral research data was projected through large acrylic tubes to become revolving striated structures that recall Echelle spectrographs. In the SPINE underpass they were back projected onto 140 x 140 cm acrylic screens coated with holographic rear projection film (see above).




My collaboration with Dr Sarah Badman led to accessing her original Hubble Space Telescope observations of Jupiter's ultraviolet aurorae. These observations were mostly captured at the same time that Juno was orbiting Jupiter and receiving radio waves in response to magnetospheric activity. The complex connection between the auroral brightness and magnetospheric processes has been researched by Sarah:

"We are entering a new era of understanding of giant planet environments thanks to the Juno mission at Jupiter and concurrent Hubble Space Telescope images of Jupiter's UV aurora. The combination of these measurements allow us to probe how the vast magnetosphere responds to changes in the external (e.g. solar wind) and internal (e.g. the volcanic moon Io) conditions." (Badman, 2019)

The sonification and sound visualisation of this interrelationship between Jupiter's auroral ionosphere and its magnetospheric activity became the focus of my dual screen installation for SPINE. The nearest projection focused on sonifications of Badman's Hubble observations of Jupiter's aurorae. The furthest projection focused on sound visualisations of radio signals received by Juno from Jupiter and recorded by the Waves instrument (University of Iowa). These included radio waves of the bow shock of Juno passing between the interplanetary solar wind environment and Jupiter's magnetosphere; receiving plasma wave signals at an increasing density while the Juno spacecraft interacted with the charged particles of Jupiter's ionosphere on Perijove 4; and Juno receiving signals from Jupiter's intense auroras (Kurth, 2016)

Although sonification might be perceived to be far less accurate than other ways of interpreting scientific data, it has been inclusively explored by astrophysicist, Wanda Diaz Merced, who became blind after she had become a professional astronomer (Ted Talk, 2016). Sonification and sound visualisation of astrophysical data could allow for a more inclusive experience for the visually impaired to interpret this data in equivalent ways. "Science is for everyone," Wanda says. "It has to be available to everyone, because we are all natural explorers." The re-analysis of sound back into image creates evidence of an interpretive equivalence for the visually sighted: mediated through digital processes and refraction it becomes a visual experience of sound.

Professor of Space Physics Jim Wild, said: "What is fascinating about this project is that it takes precise scientific data from high-quality instruments such as the Hubble Space Telescope and turns that data into something that is more about emotion and experience which helps people to engage with our science through a new route." Lancaster University News

Below: Installing 'Remote Sensing Sonification: Jupiter Aurorae' (left to right).
Upper left: Nicola Rae, Ewa Ratcliffe, Carla Banks and Javier (discussing interview). Upper right: Nicola and Ewa.
Lower left: student, Ewa, Nicola. Lower right: Bonnie Craig (other commissioned artist), Carla and Evo (from the Astrophysics department, who engaged visitors in discussion about the installation on the opening night).
Photography of installation process by Paul Malone, who also helped to install work.


Remote Sensing Sonification: Jupiter Aurorae was also shown during LIGHT UP LANCASTER (LUL), 2019,
Lancaster University Family Zone, Lancaster Central Library, Market Square, Lancaster, LA1 1HY (below left).
Friday 1st Nov 17.30 - 22:00 and Saturday 2nd Nov 17:30 - 19:30 (over 2,000 visitors to the Library event).

Artists and Scientists creating Light, LUL Artists Brunch/Networking meeting (below right),
at Lecture Theatre, The Storey, Meeting House Lane, Lancaster, LA1 1TH: 2nd Nov 10:30 - 12:30.
Panel discussion with (from right to left) artist Alex Rinsler, Professor Robert Walsh (UCLan),
Professor Jim Wild (Lancaster University), artist Nicola Rae, Mrs Harris asking questions (photo Dr Carla Banks).
Sponsored by Lancaster University.